Technology in the telecom realm evolves very quickly. If you're a business owner, manager or part of an IT team, you've likely been through a business phone system overhaul or two (or ten!) over the years. If you're tired of ripping and replacing – and losing your systems investments – every time there is notable innovation, it's time to move to hosted VoIP.
What is Hosted VoIP?
Hosted VoIP (voice over internet protocol) is an internet-based telephony service managed by a service provider partner. Hosted VoIP replaces POTS (plain old telephone service) lines and analog, on-premises equipment and moves your business telephone system to the cloud. Hosted VoIP is often also referred to as hosted PBX (private branch exchange).
How Does Hosted VoIP Work?
On a hosted VoIP telephone system, signals that would traditionally pass through analog equipment via POTS are converted to data packets and transmitted over the internet. Upon reaching its destination, the data is decompressed and becomes your communication transmission. With reliable internet and VoIP-enabled devices, you can employ a hosted VoIP provider and be off to the races with minimum CapEx at the outset, remarkable cost-savings over time, and extreme flexibility with how and where your employees work.
Hosted VoIP Services and Features
Although it's fairly common to overlay your hosted VoIP system with a UCaaS (unified communications as a service) solution for maximum communication and collaboration features, the right hosted VoIP system comes with a multitude of useful features as well. Here are a few features you should look for:
Unlimited calling
Extension numbers and easy number changes
Automated attendant
Call forwarding/routing
Multiline hunt groups
Find-me, follow-me
Call waiting/hold
Voice mail and unified messaging
Caller ID
Simultaneous ring
Call paging/intercom
DID (direct inward dialing)
Conferencing bridges
Disaster routing
Emergency call notification
Call recording
Is Hosted VoIP the Right Phone System for Your Business?
Businesses of all sizes can realize the benefits of hosted VoIP. Teams benefit from the robust – and constantly improving – features of hosted VoIP systems. And leaving the management to an expert provider pays off figuratively and literally. Here's a closer look at some hosted VoIP benefits.
Benefits of Hosted VoIP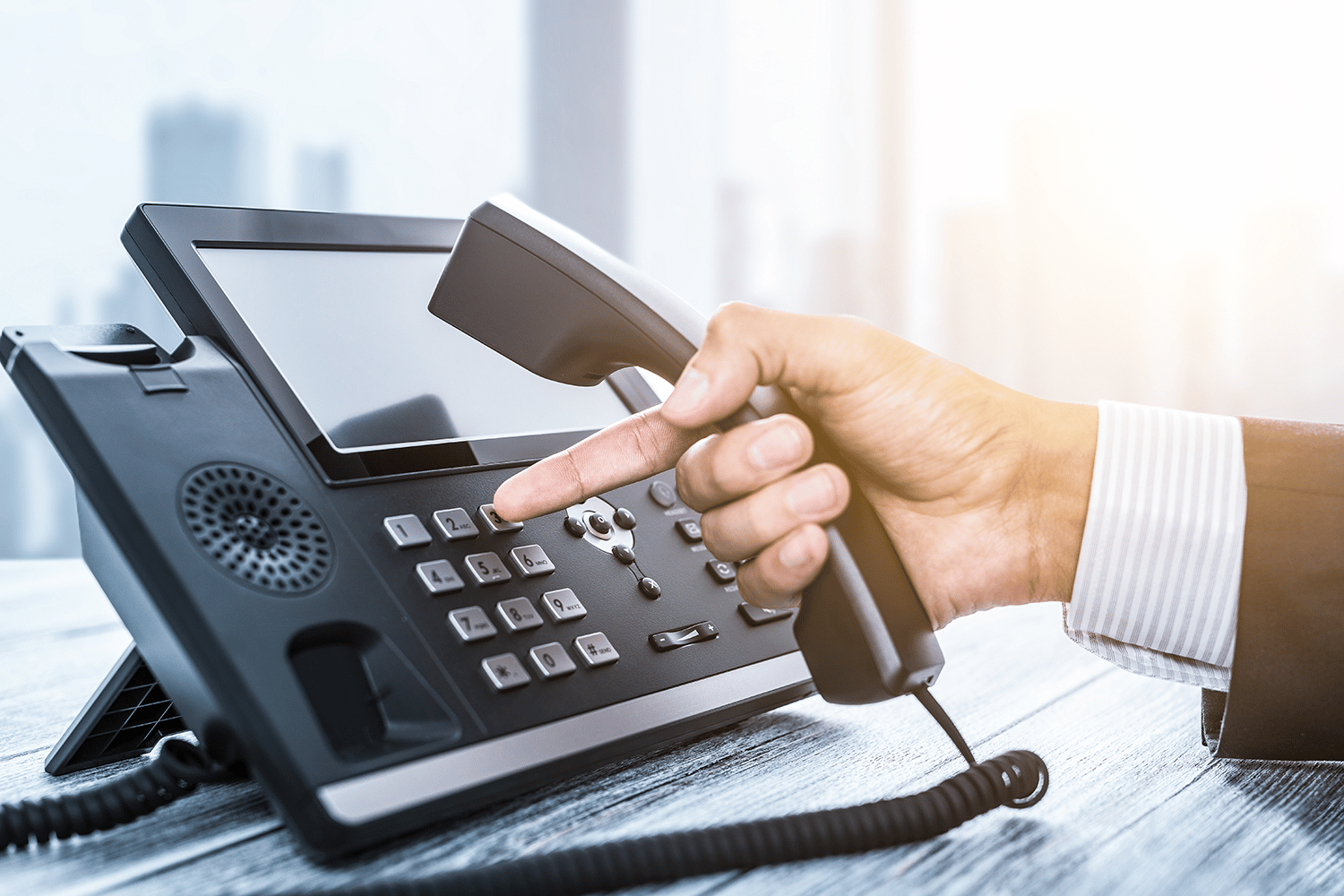 Cost-Savings
Conducting a wholesale replacement of on-premises hardware and software every time you want to upgrade your phone system is costly. With a hosted VoIP provider, you benefit from their constant system upgrades, keeping your phone system current without the high costs of "rip and replace."
Portability
With hosted VoIP telephone systems, your employees simply need compatible devices and internet access to connect from anywhere. You can cut business travel costs and enable anyone to work from virtually anywhere.
Security
Your hosted VoIP provider scans and monitors your system for threats and conducts updates and patches whenever necessary in order to minimize network risks. Other security measures like encryption and MFA (multi-factor authentication) help to keep your data safe.
Accessibility
If you have internet and an enabled device, you can use VoIP. This is true for anyone anywhere in the world.
Ease of Accounting
Your monthly and annual maintenance costs go down because you no longer maintain your own hardware and software. Plus, the hosted VoIP subscription model allows you to forecast and easily account for telephony spend.
Painless Installation/Maintenance
Since on-premises equipment is minimal (devices and handsets), hosted VoIP telephone systems are easy to install and deploy. Furthermore, working with a hosted VoIP provider removes the burden of ongoing or emergency maintenance from internal teams.
Flexibility
You can have as few or as many lines as your bandwidth allows. Furthermore, you can connect to anyone, anywhere. For these reasons, hosted VoIP is ideal for WFH (work from home) and WFA (work from anywhere) environments.
Scalability
Adding or removing seats, or lines, within a hosted VoIP environment is so easy that it's practically the click of a mouse. As business needs fluctuate, hosted VoIP enables you to pay only for what you need.
Disaster Recovery
If your business is affected by a localized natural disaster or power outage, your phone system can be easily accessed from a new or alternative office location.
Customization
Hosted VoIP enables you to tailor your system's functionality to your business needs.
What's the Best VoIP Provider for Your Business?
When you're ready to partner with a hosted VoIP provider to optimize your communications and lower your costs, choose a provider that can meet your needs now and prepare you for future growth. If you choose the right provider, it will be the last business phone system you will ever need.
FlexIP Solutions leverages advanced cloud and communications platform technology to offer flexible and secure hosted VoIP solutions that are right-sized for your business. We call it the Perfect-Fit Promise. You can enjoy enterprise-class features and 24/7/365 system management with zero IT maintenance costs or headaches.
Are you ready to explore the possibilities of hosted VoIP? Let's talk.